Flexible Metal Hose >> Helical corrugated pipe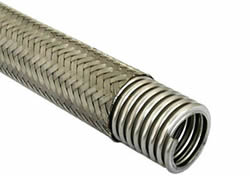 Helical hose is fabricated in a continuous spiral corrugation and has a unique property of self-draining. It can be designed with standard
pitch, open pitch and super flex for different requirements of flexibility. Corrugated hose and reinforcement are available in stainless steel
304, 321, 316L.
This flexible braided hose is adequate to sever hydraulic applications with its wide range of working temperatures from cryogenic to 1500℉
and high working pressure up to 3625psig (250bar).
Flexible stainless helical hose provides three types - unbraided, single braided, and double braided. All the data in the table below are all
tested at 70℉. Please consult temperature correction table for practical applications.
Technique Parameter
Flexible stainless steel helical hose,304,321,316L

Nominal
Hose
Size(in.)

Hose Type

Braid
Layers/
Type

Nominal
Outside
Diameter

Minimum Center-line
Bend Radius(in.)

Pressure Ratings at 70℉(PSIG)

Weight
Per Foot
(lb.)

Typical
Mill Length
(ft.)

Static

Dynamic

Max.Working

Max.Test

Nominal Burst

1/4

100H

0

0.44

4

6

140

210

-

0.08

30-100

101H

1

0.49

2625

3938

10500

0.17

102H

2

0.54

3625

5438

14500

0.26

3/8

100H

0

0.60

2

4

100

150

-

0.12

30-100

101H

1

0.66

1650

2475

6600

0.23

102H

2

0.72

2200

3300

8800

0.35

1/2

100H

0

0.73

3

5

75

113

-

0.16

30-100

101H

1

0.78

1100

1725

4600

0.26

102H

2

0.84

1750

2625

7000

0.37

3/4

100H

0

1.00

4

6

50

75

-

0.24

30-100

101H

1

1.05

800

1200

3600

0.41

102H

2

1.11

1250

1875

4800

0.60

1

100H

0

1.28

4.5

7

50

75

-

0.34

30-100

101H

1

1.36

750

1125

3000

0.60

102H

2

1.44

1050

1575

4200

0.89