Vacuum insulate stainless steel hose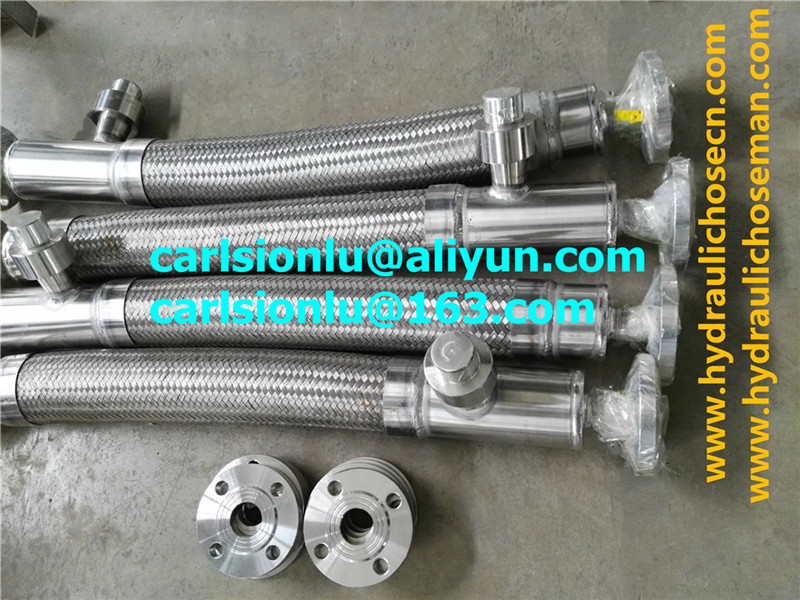 Vacuum insulate stainless steel flexible hose

Application:


Vacuum insulate hose is mainly applied to: low temperature tank filling and unloading process;
Connection transformation between low temperature storage tank and cryogenic liquid equipment;
Conversion between low temperature vacuum pipe and cryogenic liquid equipment;
Other places with special technology and process requirements.

Characteristics:

Characteristics of high vacuum multiple layer adiabatic low temperature hose:
Using the special customized double layer stainless steel metal hose, sandwich special multiple layer insulation composite material and keep high vacuum, cooling effect is good, in the process of using the hose outside surface is not sweating, no frosting;


• support between internal and external tubes with minimal thermal conductivity
Small bending radius, easy to use, the length can be customized according to the requirements of the user.
• it can be connected to a vacuum pipe.
In order to reduce the loss of vaporization, the two ends of the vacuum hose can be connected to the flange or the tank and the special quick fitting joint of the tank car.
Special required vacuum hose can be customized

Specifications:
Specifications and main technical parameters of low temperature vacuum hose & pipes

SIZE(mm)

DN15

DN20

DN25

DN32

DN40

DN50

DN65

DN80

DN100

INNER TUBE(mm)

Φ15

Φ20

Φ25

Φ32

Φ40

Φ50

Φ65

Φ80

Φ100

OUT TUBE(mm)

Φ50

Φ65

Φ65

Φ65

Φ80

Φ100

Φ125

Φ150

Φ168

Leakage of heat
W/m

0.99

0.53

0.63

0.76

0.9

1.01

1.3

1.59

1.93

Working pressure

≤20MPa
Design according to the actual requirements of the user

Design temperature

-270℃

Conveying medium

LNG、LO2、LN2、LAr、LH2、LHe

Leakage rate of vacuum inter-layer Pa·m3/s

≤1X10-10

Leakage speed of vacuum inter-layer Pa·m3/s

≤1X10-8

Vacuum degree of sealing Pa

≤5X10-2

Vacuum degree at liquid nitrogen temperature
Pa

≤5X10-3

ambient temperature

-40℃~60℃

Opening pressure of inter-layer safety device

0.6MPa

design basis

Related national standards and Q/NQS007-2010 "low temperature adiabatic tube"